I have put on weight recently!
I don't even need the scales to tell me that, plenty of people are happy to inform me that my belly is showing more than it has for a long, long time, which is nice!
The best thing about this fact is that I really don't care!
I feel fantastic. My energy levels are as high as ever, I feel strong, mentally I am in a good place. I am currently focusing my training on either using solely Olympic rings and/or my martial arts. My nutrition is good, never strict, but responsible as it should be.
However, a couple of things are hindering my ability to train to the same level that I have in previous years. A slight injury I have had for the last month and….
My family!
Those damn relations of mine are just getting in the way of me training, or being as selfish as I had been in previous years with regards to my goals. My boys are now 8 and 5. If I lie on the floor to stretch or practice a handstand I get jumped on. They take up nearly 100% of my time outside of work.
Monday – homework
Tuesday – football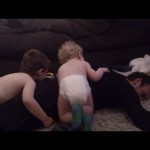 Wednesday – Beavers
Thursday – Judo
Friday – swimming lessons
Saturday – football
Sunday – football.
Leaving very little time for ME!
I attend every session that I possibly can. I get involved with homework and reading and enjoy watching the development unfurl right before me.
And that's ok!
My family is my whole world. My children are the greatest thing that I have ever achieved, so if any hobby or activity that I like to do were to encroach upon the time that I need to dedicate to them, well unfortunately I won't be doing that activity anymore. Not unless I can find a suitable compromise. I only have a certain amount of time with them, before they become men with their own lives and family. I totally value every single moment with them, because you never know when it will all be gone.
From experience also I am aware of the affect of my parents on my life. My dad never ever missed a football match. No matter how wet, cold, miserable or insignificant that match was, he was there, even when I was 30. A thumbs up from him was worth more than a thousand praises from anyone else. I message or speak to my wonderful mum all the time. The times that they have been there for me is never forgotten.
I remember reading a post recently about a man boasting( yes boasting) that he missed his son's first goal at football(soccer) because he was at the gym, and working on his fitness. It might be really hard for him to comprehend just now, but in a years time, 10 years time and beyond, that run on the treadmill and session in the weights room will not have contributed significantly to his fitness/health during his lifetime. However, the boy probably won't ever forget that he wasn't there during one of the most important moments of his young life.
All this for a hobby?
Yes unless, you are getting paid money for running, lifting, kicking, it's a hobby!
Couldn't he just have got up one hour earlier?
Despite my (slight) weight gain, like I said I still feel in great condition. We are a very active family. We go out walks daily, I stretch in the house. I take opportunities when they are presented to me to go and train, just not to the extent I have maybe done in previous years. If anything it makes me more focused on insuring that the quality of my activity or training is even better with the time I have.
Quality over quantity? Yup, it really is a true statement.
Sometimes life just gets in the way, which is the complete opposite of using other people as an excuse and not bothering your backside!!
For me, health encompasses everything
– Physical fitness
– Mental health
– Sleep
– Good nutrition
– Plus many other factors
So despite what life throws at us, it is important to try and tick as many boxes as possible, when opportunities present themselves.
So if you can't attend your high octane, fat melting class tonight, or tackle your current 1RM for deadlift, because you have to taxi a loved one to something important, I repeat…..
That's ok!